Industrial Engineering Graduate, 2016
That day, my son surprised me and moved me within. Returning home from campus, he said: "Mom, I'm so sorry if I ever made a mistake or hurt your feeling… I love you, Mom."
It was only later that I found out he had been to a camp and got some kind of enlightenment about family relationship. I am thankful that he chose to study at ITHB. There are very few higher education institutions that care about the spiritual growth of their students. My son qualified for 4 scholarships from 4 different prominent private universities, but after some careful considerations and prayers, he chose ITHB. Apparently at ITHB, they focus not only on education, but also on the spiritual aspect of their students. To be honest, that was what I was looking for because I want my son not only to improve intellectually, but also spiritually.
Drs. Teguh S & Dra.Laniwati B
---
Informatics Engineering Graduate, 2016
We are thankful. The education at ITHB has made our son a stronger survivor wherever he goes.
Djang Fong Chi & Sjak Fha
---
Information System Graduate 2016
We were very proud when we learned that our son was awarded a 100-percent scholarship from the rector. William now is a far better person than he used to be. So, I guess it's a good idea to also send his younger brother and sister to ITHB.
Informatics Engineering Graduate, 2016
ITHB is an academic institution that cares. Discipline is a keyword there. No wonder the campus is clean and comfortable. A perfect environment for studying. ITHB always maintains good communication with parents. In this way, parents are always informed about their children's education and academic achievement.
Industrial Engineering Graduate, 2016
My son was a very shy boy back then. After studying at ITHB for some time, he became very confident and sociable. He's said good bye to the old him.
Information System Graduate 2016
We noticed a change in our son's personality since he became a student at ITHB. He became more diligent and better at managing time between studying and playing basketball. We were very impressed when our son got an opportunity to train for 4.5 months in the US but he still could attend online courses from there.
Ferdinand Tumbel & Julike P
---
Information Technology Graduate 2016
My daughter's character has significantly improved since studying at ITHB. She's become more mature, responsible, and independent. The proudest moment that we'll never forget was when Claudia was awarded a full academic scholarship from ITHB.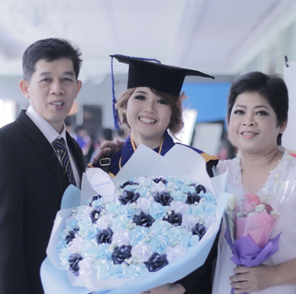 The Tjoe Beng & Tan Giok Lian
---
Parents of Theresia Yolanda
Industrial Engineering Graduate, 2016
We, Theresia Yolanda's parents , would like to thank ITHB leaders and lecturers who have educated and guided our child. Academic and non – academic learning  at ITHB have made our daughter  independent, disciplined, hardworking and ready to conquer the market place. The most important  thing is the character and spiritual guidance that ITHB gave have made her appreciates life and lives an intentional living. Thank you for all the knowledge that has been given . We were right to choose ITHB . Hopefully, ITHB will continue to bring forth future leaders who make a difference.  Jesus bless you.
Parents of Stefi I Tehupeiory
Industrial Engineering Graduate, 2015
On top of everything, we are so overwhelmed with the cum laude predicate attached to her as a result of hardworking and the willingness to become a better person. So much better that she was recruited by Accenture, long before she was graduated.
Parents of Felicia Guyadi, BBus (hons).
Art & Design Graduate, 2015
Our daughter was a kind of a lay back person who hasn't got too many friends but now from what we can clearly see, she has changed. She is a different person, a full of life young girl. She is now able to adapt and engaging her surroundings, becomes a motivator to inspire her sisters as well as people. Joining HIMA is another proves about her leadership where she must demonstrate responsibility and that certainly, would be an icing on the cake for us.
Parents of Hanna Ribkah, ST.
Informatics Engineering Graduate, 2013
Hanna was completely transformed from a spoil young girl to a person who solidly stands on her own feet. ITHB has educated and shaped our daughter in terms of her character and to see her now becoming a very independent, persistence, determined, diligent, brave and inherited a leadership quality, nothing could have been sweeter than this. She has done us a proud. Remembering the early days she joined the university and all we can say is everything is different now.
Mr. Kang Cua and Mrs. Sok Kheng
---
Industrial Engineering Graduate, 2011
We educate our daughter to become a person of discipline. At ITHB our daughter is exposed to professional environment and intensive spiritual growth program that allows her to excell in the marketplace.
Drs. Jantje D. Prang M.Si.
---
Visual Communication Design, 2011
ITHB aims to educate future leaders who can make a difference. That's the main reason I support my son to study at ITHB International Program.
Parents of Renaldy Taroreh.
Computer Engineering, 2010
By participating in numerous academic, student, and spiritual programs, my son is able to develop himself into a competent individual with strong character, ready for marketplace experience.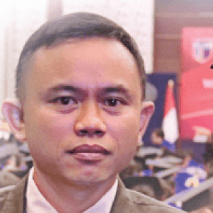 Accounting Graduate, 2012
I am very proud with ITHB who have train my son, not only in the accounting competence, but also in spiritual growth. This enables him to find his calling to create positive impact for the nation.